In the Upper School's Garland Auditorium on May 4, the Asian American Alliance (AAA) affinity group showcased a variety of visual arts, from photography to poems, to commemorate Asian American Pacific Islander (AAPI) Heritage Month. The gathering was not only entertaining but provided an unforgettable experience for the Upper School community.
Once all the auditorium seats were filled, we were welcomed with a short introduction to the meaning of this assembly. I sat in my seat excitedly, waiting for what was to come. It was obvious that hard work and heart had gone into the assembly.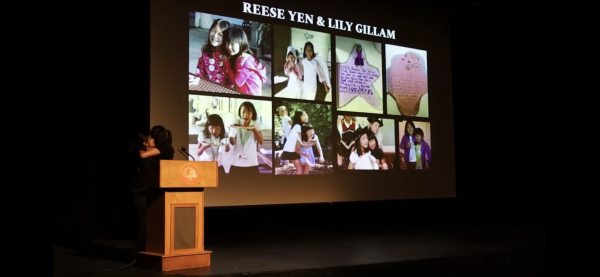 Senior Lily Gillam's and senior Reese Yen's letters to one another stood out as a memorable moment. As they read their heartwarming notes, detailing their decade-spanning friendship, my heart swelled. Their genuine expressions of love, appreciation and support for one another resonated deeply and reminded me of the profound importance of connection in our lives. At such a young age, they were able to identify with each other's similarities and form a strong friendship that would last them years.
At Poly, it is easy to feel isolated. Gillam's and Yen's letters epitomized the importance of expressing our feelings to those we care about and highlighted the importance of finding others with experiences similar to ours to avoid feeling alone. The gesture was not just a gift to each other but also to the audience, reminding us of the beauty within heartfelt expressions of love and gratitude.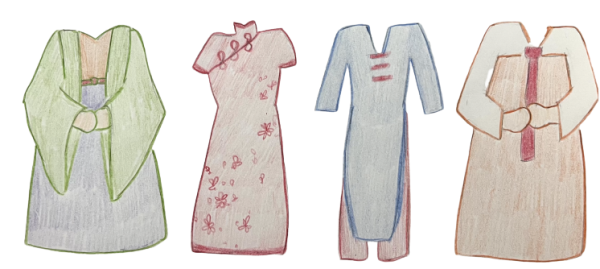 Further into the assembly, AAA members presented photography, paintings and poetry that conveyed the diverse narratives and experiences of the AAPI community at Poly. Each artistic medium painted a vivid picture of the community's rich cultural and individual stories. The photographs captured candid moments of joy and living life while the paintings reflected the beauty and complexity of identity. Junior Carolyn Wu's self portraits in which she adorns her ethnicity's authentic dress and makeup embodied this.
Later, the dance performance elicited an eruption of cheers and laughter from the audience. As I watched the group of students dance to popular K-Pop songs and PSY's "Gangnam Style," I found myself beaming.
K-Pop, short for Korean Pop, has experienced a global increase in popularity over the past decade. With its vibrant music videos, synchronized choreography, and catchy beats, K-Pop has become a phenomenon that has captivated people all around the world and acted as a cultural bridge, bringing people from different communities together.
Lastly, junior Sharon Chou shared a poem she wrote about the language barrier between her mother and herself. I deeply admire Chou's bravery in sharing such a personal poem with the school. Her beautifully written lines displayed the love and frustration she felt in trying to communicate clearly and honestly with her mother. Her poem opened up my thoughts about the significance of empathy and compassion when interacting with individuals who speak different languages.
The AAPI assembly was a powerful and transformative experience, showcasing the community's talent, resilience and interconnectedness. The visual arts, performances and heartfelt exchanges touched my heart. The assembly reminded us of the power of art and human connection to foster understanding and celebrate the rich diversity within our community.