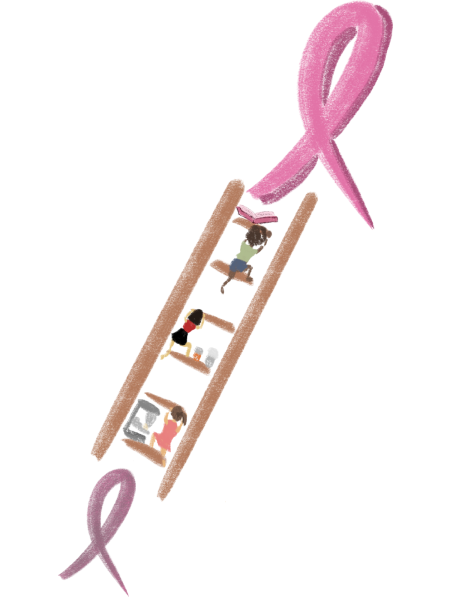 As we embrace Breast Cancer Awareness Month, a wave of pink engulfs our surroundings, from pink jerseys to pink socks to pink makeup – but amid this profusion of a pink October, one must ponder if we are truly conscious of the deeper meaning behind this movement. In other words, what are we actually aware of?
The breast cancer awareness campaign has undeniably reminded people that breast cancer exists, with heightened attention on pink ribbons significantly increasing funding for research – which in itself is a commendable achievement. However, beyond the symbols and raised funds, the campaign plays an essential role in acknowledging the need to fill the gaps in our understanding of this disease, which affects one in eight women in the United States.
Though it's crucial to recognize the milestones already made in breast cancer awareness, we must continue to push beyond the symbolism of pink, take a more educational approach and foster a more comprehensive knowledge of the disease. It's most important to learn about using breast self-exams to find abnormalities at an early stage and especially about screening options other than mammograms, such as ultrasounds or magnetic resonance imaging (MRI).
According to American University Health Journalist Lauren Evoy Davis, ultrasounds are readily available and are the ideal option to identify abnormalities in dense breast tissue through lumps that don't show up on mammograms. MRIs are sensitive, being able to provide more detailed images of masses in dense breast tissue than mammogram screenings; however, this option is a relatively pricey modality but can be used for patients with genetic-based increased risks of breast cancer.
The need to better understand this disease hit home when my mother informed me about her breast cancer diagnosis, which she received through a doctor's call on Back to School Night last year. While it was supposed to be a cheerful night where teachers and parents meet, the news sent a wave of anxiety rippling through my veins, the color pink suddenly becoming personal.
During those challenging months, my mother and I engaged in heartfelt and enlightening conversations about the value of understanding individual risks and getting access to proper healthcare. I learned that her cancer diagnosis didn't come through her routine annual mammogram; instead, it was the result of requesting additional tests due to her knowing about the potential limitations of mammograms in detecting abnormalities in women with dense breast tissue.
Reflecting on my personal experience, I find it ironic that my mother, a dedicated cancer researcher, became a cancer patient. I always saw her as an invincible figure, capable of conquering anything. Her diagnosis left me baffled and confused as I struggled to come to terms with the reality that even the strongest among us can be vulnerable.
As I grappled with this feeling, I discovered her strength never left her as she fiercely overcame the disease. She courageously shared her story with friends and colleagues to emphasize the importance of knowing her own risk and asking for additional screenings when necessary.
One of her friends reached out to express her gratitude, revealing that her routine mammogram had missed early-stage breast cancer. My mother's story inspired her to take action, driven by her determination to learn more about her body and prioritize her health. As a result, the woman requested an additional screening, an ultrasound, which ultimately led to the discovery of breast cancer.
In her essay about her breast cancer diagnosis, Katie Couric, a prominent journalist and advocate for cancer awareness, also highlighted the significance of knowledge and staying informed.
She wrote, "We need to stay on top of our screenings, advocate for ourselves, and make sure everyone has access to the diagnostic tools that could very well save their life," conveying our collective responsibility to boost both our own well-being and the well-being of others.
I've come to recognize that during Breast Cancer Awareness Month, in addition to wearing pink ribbons, we need to teach facts about the disease, advocate for accessible healthcare resources and share information.
At Poly, the "Dig Pink" volleyball initiative sponsors the Side-Out Foundation's clinical trials to extend the lives of those with stage IV breast cancer, while directing all proceeds from shirt sales to this cause. By facilitating comprehensive awareness while fostering a more proactive and informed approach, I believe Poly could benefit profoundly if we included informative materials such as posters or flyers with each shirt purchase containing pertinent information about disease prevention and detection, like healthy lifestyle choices, high-risk demographics, breast self-exams and early-stage symptoms.
While the pink ribbons compel communities to raise further awareness about cancer, the campaign's true power lies in its ability to encourage people to see more than the mere existence of the disease.
Junior Julia Lai shared, "I love the idea of the color pink to address the cause, but the awareness part should also include more education on the subject so we could learn more about screening, risk factors and how cancer develops and spreads."
From my mother's experience, I've learned the key action to foster solidarity in the fight against breast cancer is self-education. This could come in the form of asking questions to a medical professional, engaging in meaningful discussions with peers or even Google searching; all in all, this education step is important to care and advocate for our health.
It's time to move beyond mere displays of pink so that we can provide individuals with the tools they need to fight for themselves. I urge you to adopt self-advocacy and knowledge as the guiding principles in not only learning about breast cancer but also in leading your life. These are the keys to proactive action and equitable access to life-saving resources, eventually leading us to a healthier future.